Welcome to ICLT 2019
Welcome to the official website of 2019 5th International Conference on Learning and Teaching—ICLT 2019, which will be held in Seoul, South Korea from May 27-29, 2019 ICLT 2019, organized by IEDRC, aims to create a platform towards sharing rigorous research and current practices being conducted in learning and teachning.
In the 21st century, the provision of education that relates to an individual's interests, needs, expectations and global expectations is gaining importance day by day. Moreover, the match between an individual's characteristics with the environment in which learning takes place, together with the management of those learning environments are also important. In this framework, The conference focuses on the unique challenges of learning and teaching in multi-cultural contexts in universities and high schools and on innovative and emergent practices that are informed by pragmatic scholarship. So, we invite all colleagues, researchers, academicians, graduate students, teachers and project leaders around the world to submit their original research articles and review papers to this international conference.
Publication-IJLT
Some accepted papers will be recommended to published in International Journal of Learning and Teaching (IJLT), which is a scholarly peer-reviewed international scientific journal published quarterly, focusing on theories, systems, methods, algorithms and applications in Learning and Teaching.
ISSN: 2377-2891(Print); 2377-2905(Online)
Abstracting/Indexing: Google Scholar; Crossref; IndexCopernicus, etc.
Publication-IJIET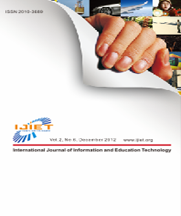 Some accepted papers will be recommended to published in International Journal of Information and Education Technology (IJIET), which is an international academic open access journal which gains a foothold in Singapore, Asia and opens to the world.
Abstracting/Indexing: EI (INSPEC, IET), Electronic Journals Library, Google Scholar, Crossref and ProQuest